Good News for Muslimah – Zumba for Ladies
Are you looking for a place to exercise and exclusive for ladies? We have a good news! We've been conducting the class since last year. Every Wednesday we are conducting an exercise exclusive for ladies alternately Aerobic and Zumba. And this week it'll be Zumba Class!
Those who are nearby Seri Kembangan, Serdang, Puncak Jalil & Putrajaya, especially ladies. You don't need to travel far to go for the class. It's just around the corner. Come and meet up with other ladies that determine that love healthy active lifestyle.
Zumba Class Exclusive for Ladies Only
Wednesday Night
8.30pm-9.30pm
Kelas Zumba Khas Untuk Wanita
Rabu Malam
8.30mlm-9.30mlm
Bertempat / Venue:
GoFitWith.Me
C-11-4, Jalan Atmosphere 6,
The Atmosphere Business Center
43300 Seri Kembangan.
Selangor.
First visit is FREE!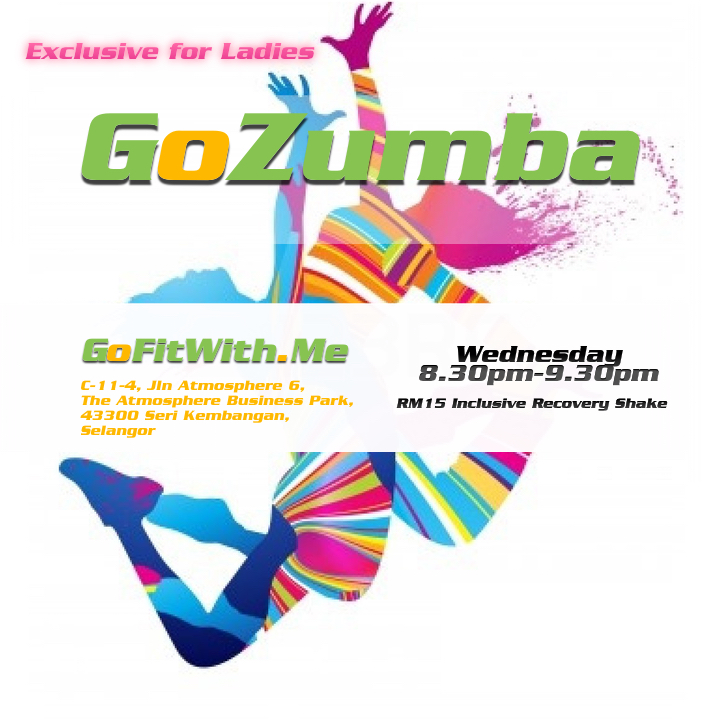 (RM15 Inclusive Recovery Shake)
Contact Coach Fadillah : 019 3088 720 NOW!
Get Fit, Get Healthy, More Ibadah …