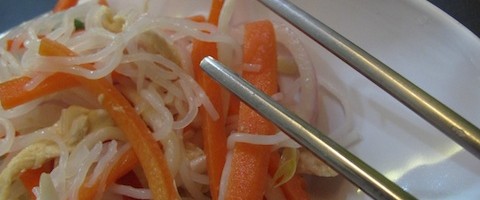 Chicken and Glass Noodle Salad
Brief Description
Glass noodle or malaysian call suuhoon is popular for making soup and stir fry. This salad can be an cold appetizer or just a normal meal when you are on budget or watching your waist line.
Glass noodles  comes with many health benefits not just being low in calories perfect when you are trying to lose weight, but also great for suppressing your appetite helping you eat less still getting full due to how chewy they are, that you need to remember when trying to lose weight eating healthy.
Chicken consists of high-quality protein (that is, protein that contains the eight essential amino acids) and a relatively low amount of fat. In addition, fat in chicken is mostly of the unsaturated type, which protects against heart disease. Thus, chicken is often recommended by physicians and nutrition counselors as an alternative to red meat (beef and pork), which typically has more fat and more saturated fat. Chicken breast without the skin has less fat than sirloin steak, pot roast, 80 or 90 percent lean hamburger, pork chops, or ham.
Ingredients
100 Glass Noodle

1 cup chicken breast

1 cup carrot

1 cup beansprout

1/2 cup onion

1/4 cup mint

1/4 cup cilantro

1/4 cup red chili

3 tablespoon lime juice

1 teaspoon olive oil
Directions
1. Put noodle in boiling water for 5 to 8 minitues. Drain and transfer to a large bowl.
2. Boil or steam chicken breast until cook
3. Combine the dressing - the lime juice and olive oil. Set aside
4. Mix together all ingredient and put some salt to taste. Serve cold.
You May Also Like These Recipes